08-24-2020, 02:36 PM (This post was last modified: 08-24-2020, 02:43 PM by Gaith. Edited 1 time in total.)
Thirteen Days

(2000)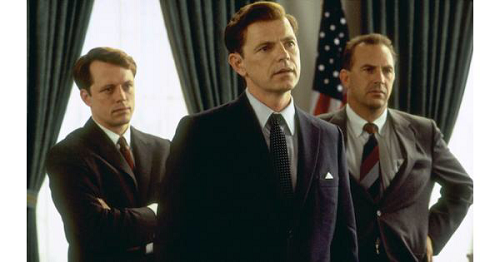 Thirteen Days
was a big movie for me in 2000. I'd seen history-based films before, of course, but this was the first to truly
grab
me, and, along with
The West Wing
, which was airing at the same time, helped kick-start my interest in political history. So, does it hold up?
I'm afraid my answer is only... "kinda." Bruce Greenwood and Robert Culp are, to my inexpert eyes, quite good as the JFK and RFK, and the production is solid. The main problem is Kevin Costner as a political aide who serves as a viewpoint character, but why do we need one? Did the filmmakers think viewers wouldn't find the Kennedys interesting enough, or did they think the audience needed their hand held? The character (based on a real person, but with an inflated/conflated role) is fine in the political scenes, but also consults on military stuff for some reason, and gives pep talks to both the brothers. (Wait, turns out the actual guy was a
legit WWII veteran
, but, aside from a brief mention in the movie, that is
not
made clear, especially when he talks with service members.) The movie would have been rather better had the character's role been reduced, a big celebrity not cast, and the valuable points he brings up shared with other aides. As it is, a fan edit might significantly improve the experience by minimizing the part.
In short, this is a respectable dramatic introduction to the subject, and an ideal watch for those of high school age especially. The Kennedy clan led such dramatic lives that a lavish HBO-level series would be an ideal dramatic treatment, with the Cuban Missile Crisis the focus of an episode. Indeed, a
2011 miniseries
did just that, but at least one of its producers was a right-winger, and suspicion of the project from those connected to the Kennedy family hounded it into obscurity, apparently rather unfairly, but then, critics weren't much impressed by the final product anyhow.
The later film
Chappaquiddick
also faced pressure and hostility. Even as a liberal myself, it's clear that any major dramatization of the family that isn't as gently idolizing as this film will require serious showbiz muscle to overcome their lingering cultural power.
Grade:
B