08-09-2020, 01:10 PM (This post was last modified: 09-16-2020, 06:25 PM by Gaith. Edited 4 times in total.)
Fleabag

(2016-9)
(US Amazon Prime)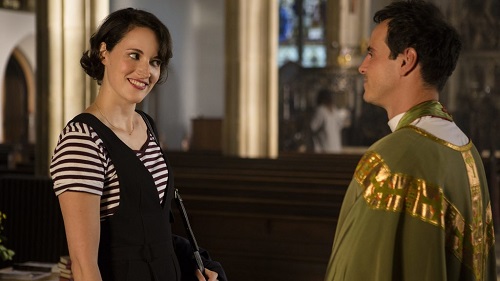 Fleabag
is a two-season show of six episodes each about an unnamed London woman with a penchant for drinking and casual flings. It's written by and starring Phoebe Waller-Bridge, who I didn't realize was the voice/performer of the female droid in
Solo
until I was nearly done with the show. The first season is solid but unremarkable indie sitcom entertainment in the mold of
Louie
and
Master of None
. The second season, however, benefits tremendously from a flirtation arc between the protagonist and Andrew Scott's foul-mouthed, hard-drinking Catholic priest; their interplay is really quite electric. Also, Olivia Colman is splendid throughout as the protagonist's step-mother-to-be, who takes the concept "killing with kindness" to terrifying extremes.
A lot of critical commentary has gushed over the series, the second season especially, but to my male eyes, it wasn't as daring or searing as
Louie
, a show I'm not going to pretend no longer exists despite CK himself having suffered a well-earned career implosion. That said, the Fleabag/Priest romance is certainly as
entertaining
as anything in
Louie
or
Master of None
.
S1 Grade:
B
S2 Grade:
B+
-----------------------
(08-08-2020, 04:17 PM)

mnkykungfu Wrote: So, the inevitable question... any thoughts on if/how this could be redeemed through an edit?  (Bear in mind that I've never actually sat through the film, as I didn't want my heart broken.)
Escape from L.A.
, for better or worse, is what it is. If one wants to watch
Escape from New York
, watch that. But whereas
New York
plays everything completely straight,
L.A.
practically winks at the camera throughout, except maybe in that final scene. Accept that, and you may enjoy it. I remember it as being pretty okay for what it was the one time I gave it a spin...