Sahara

(2005)
(US Amazon Prime)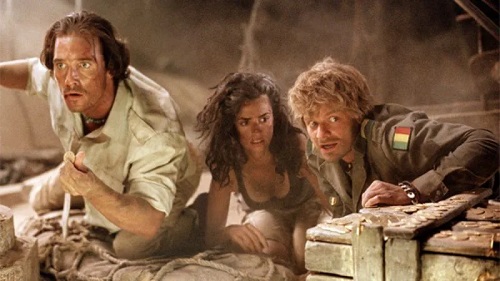 As a fan of adventure flicks and lighthearted romps, it was inevitable that I should see
Saraha
at some point. Well, now I have. And, first, credit where credit is due: the movie
looks
fantastic. First-time director Breck Eisner, son of then-Disney boss Michael, mounts a very handsome production stuffed with top-notch desert cinematography, cleanly staged action sequences with no obvious CG work, and all-around excellent location shooting. It's practically worth a watch for visuals alone, though the disc commentary, which reportedly features tons of over-confident bluster about the many sequels to come, might be more entertaining than the movie itself.
Because, good grief, is this a stupid, stupid flick. Matthew McConaughey plays an good ol' Southern boy treasure seeker looking for a Confederate ironclad in Africa. (
What?
Don't ask.) Penélope Cruz plays a WHO doctor investigating a mysterious disease outbreak. So, in a metaphor for the Confederacy itself, the vessel will prove to be the source of the disease, right? Nope! These two plot threads, which end up quite literally neighboring each other in the Sahara Desert, turn out to be completely and utterly unrelated. And then our white heroes use Confederate weaponry to kill the Black African villain. But it's okay, see, because they made
other
Black African friends along the way. (Why the vessel's hold is full of skeletons, and how the crew perished, is not even addressed.) It'd all be howlingly offensive if it weren't so mindlessly, childishly
dumb
. This is, after all, a family-aimed nonstop cavalcade of violence (seriously, the whole second half is just one battle after another) and pulp serial throwback that doesn't even bother to ogle one of the world's all-time beauties, which I'm not sure whether to praise or knock it for. And don't even get me started on the notion of the doofus protagonists as former Navy SEALs.
In short, my opinion that the modern age and throwback serial adventure yarns
just don't mix
endures. Although loud and interminable, it's more enjoyable than the odious
Indiana Jones and the Temple of Doom
, for one, and there's something
vaguely
likable, at times, in its relentlessly upbeat and dopey tone. Hey, it's The Merovingian playing the villain again... that's
kinda
neat, I guess? And, again, it
does
look amazing throughout.
Grade:
C