Medical Police

(2020)
(US Netflix)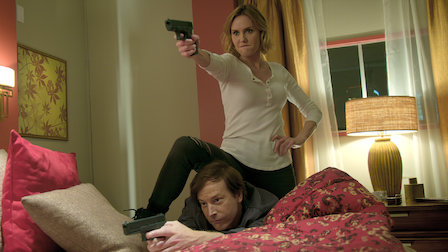 Are you in the mood for a Bayhem/Bruckheimer
Childrens Hospital
spinoff series about a pair of wacky doctors racing to find a cure before a deadly virus wreaks havoc on the global population? No? Maybe? Kinda? If you're not a "hard pass" to that question, the international action thriller
Medical Police
might just be right up your alley!
Despite the outrageousness of its premise and the wacky antics of its heroes, much of the series' humor is pretty low-key, with the joke often being how nonchalantly the characters react to absurd situations and reality-defying
non sequiturs
. The breakneck plot speed, meanwhile, means that any setbacks for the heroes are strictly momentary, so it's impossible to feel any tension even within the context of their absurd scrapes. I don't think I had any belly laughs, but I
did
chuckle throughout, and stars Erinn Hayes and Rob Huebel definitely grew on me over time. This isn't comedic gold, a la
Macgruber
, but it's comedic bronze in a similar vein. Well, comedic
aluminum
, at the very least... It's solid and it works, is what I'm saying. Parodying the self-serious, blandly international procedural is getting pretty musty itself these days, but the leads carry the program even when the scripts aren't hugely inspired. If the teased S2 comes to fruition, however, I want to see the series
really
go for broke, and give us freaky-ass mutants and monsters.
Grade:
B+