12-23-2019, 02:54 AM (This post was last modified: 12-23-2019, 03:44 PM by Gaith. Edited 1 time in total.)
The Abyss

(1989)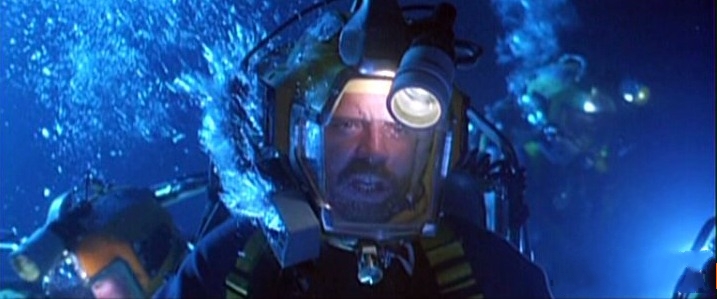 Well, at least that month's HBO subscription bought for the
His Dark Materials
fail wasn't a total loss, as, along with
127 Hours
(pretty good; B+) it allowed me to project
The Abyss
in glorious HD, a rarity for this uniquely notable film not available on blu-ray. I'd seen it once in a small theater as a kid - the extended version, I believe - but only had vague memories of the sets and the rat breathing liquid, so this was basically my first viewing.
And, for the first two-thirds, I thought I was watching James Cameron's secret masterpiece and best film. Alas, the third act, while solid, isn't as great as what came before. Granted, the theatrical version is a big improvement over the woo-woo extended version, which features
downright silly
shots of beachgoers and civilians running from sky-high waves that would have utterly broken the movie's tone. Still, even more should have been trimmed: some of the hokey descent dialogue is superfluous, and I'd have preferred a smash-cut to black and credits just after Bud and the NTIs first make eye contact.
That said, the movie looks
incredible
, especially in gob-smacking HD, the cast is excellent, and, though the resuscitation scene is typical Hollywood malarkey*, most of the narrative is riveting. If you haven't taken this dive, or it's been so long you no longer remember it clearly, sign yourself up for a 7-day HBO trial if necessary, and find a projector with a large screen!
A-
* Defibrillation can only fix irregular heartbeats by
stopping
cardiac electrical signals in hopes that the next wave of signals will be properly spaced out for healthy contractions; only chest compressions can coax a stopped heart back to action. Ergo, if your patient has no palpable pulse, defibrillation can only waste time, and CPR is their only hope.