The Shallows

(2016)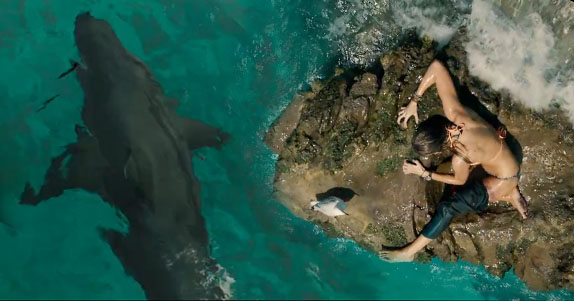 I like survival movies -
All is Lost
,
United 93
,
Buried
... I haven't seen
127 Hours
, but I want to. I
don't
, however, like
Jaws
- sure, the first half (tourist town social satire) is pretty good, but the second half, in which the shark becomes an evil, obsessed predator that attacks a freakin' fishing boat, is too silly and unrealistic to be endured. Perhaps
The Shallows
is more credible?
Sadly, no. This shark is also nonsensically fixated on a particular human, in spite of a nearby dead whale in the water as well as several other kills it scores over the flick's brief run. What's more, the third act action finale is an eye-rolling cartoon. As others have stated, there's some fan editing potential in trimming unnecessary exposition and a lame coda, but for nautical danger, I'll stick with In the
Heart of the Sea
, thanks... even if it lacks
Blake Lively in a wetsuit
, which is altogether too rare a feature of contemporary cinema.
Grade:
C