Narcos

, Seasons 1-3 (2015-7)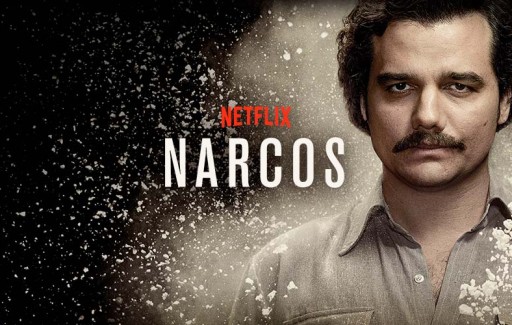 Crap like the Bayformers movies and
The Great Wall
have shown us the downsides of the globalization of the entertainment industry. With
Narcos
, however, we get something to celebrate: a truly cinematic, big-budget production that's bilingual and international to its core. (Indeed, one could argue that
not enough
of
Narcos
is in Spanish, and Netflix US also offers a prior, Columbian-made all-Spanish series for streaming.)
Seasons one and two spotlight Pablo Escobar (the brilliant Wagner Moura) and the DEA and Columbian officials hell-bent on taking him down. Despite a mild over-reliance on
Logan
's Boyd Holbrook outsider/American perspective, the first season is a total blast. The second season, in which Escobar attempts to rebuild his fractured empire, is a bit lower-key, and Holbrook's character doesn't really go anywhere, but it's still good stuff, thanks in large part to Moura's always-riveting performance. (And, of course, the Colombian location production is always incredible. This is definitely a show to watch projected on your biggest wall if at all possible.)
The post-Escobar season three, however, is easily the best, with the awesome Pedro Pascal (upcoming star of the
Star Wars
'
The Mandalorian
), taking center stage. This time around, the Cali Cartel, which had been mostly overlooked during its days as the country's #2 gang, finds itself the prime law enforcement target, and its leaders hatch an ingenious scheme: make a preemptive "surrender" deal with the government, divesting themselves of the drug trade and keeping their ill-got billions. Trouble is, what sounds like a great deal to the
leaders
doesn't sound so great for the rank and file, and also makes the whole organization a prime target for the smaller gangs always looking out for a way to claw their way to the top. As great as Pascal is, the true star of the season is Spanish-Swedish Matias Varela, playing the Cali Cartel's chief intelligence officer, a peaceful guy whose denial over his involvement and complicity in the horrors of the drug trade finally catches up with him, and all at once. He and Pascal more than make up for Wagner's absence, and the overall storyline is more complex and interesting than Escobar's straightforward rise to/attempt to remain on the top.
Season 1: B+
Season 2: B+
Season 3: A-
... On to the just-released spinoff
Narcos: Mexico
, starring Michael Peña and Diego Luna!