01-13-2018, 08:42 PM (This post was last modified: 11-18-2019, 02:24 AM by Gaith. Edited 8 times in total.)
There are lots of
World War II
movies... so, why not a dedicated thread for them? First, a few recaps (see quote links for full reviews):  
(05-19-2015, 10:43 PM)

Gaith Wrote:

Fury

(2014)
 


 


Seriously legit tank epic - unlike

The Hurt Locker

, it has more than one interesting character, and unlike

Saving Private Ryan

, it doesn't center around a silly (entirely made up) main plot. The whole cast is great, including Peña and LaBeouf and 'the girl' (man, is she pretty), but the most props go to Pitt. The third act is a bit over the top and absurd, but I didn't really mind.

A-
(04-07-2017, 08:28 PM)

Gaith Wrote:

Five Came Back

(2017)



Excellent three-hour warts-and-all Netflix doc on the WW2 military service and filmmaking of John Ford, William Wyler, John Huston, Frank Capra, and George Stevens, based on the recent acclaimed Mark Harris book. Spielberg, Coppola, Guillermo del Toro, Paul Greengrass, and Lawrence Kasdan appear as talking heads, as do the directors in archival footage. Very high quality clips of the films themselves throughout. Nothing hugely surprising, but a great watch for history and movie buffs. And just about anyone, really.

A
(03-05-2017, 03:11 AM)

Gaith Wrote:

Anthropoid

(2016)



Very good flick, with first-rate action editing. The battle at the end is lengthy, harrowing, and altogether riveting. Apparently the actor who (very briefly) plays Heydrich previously played him in the 2011 Czech drama film

Lidice

. Also, I've seen HBO's

Conspiracy

(also on Amazon Prime) twice, but only now realized that Kenneth Branagh's role in that movie is Heydrich - but then, I never particularly knew who Heydrich was until I started on Amazon's

The Man in the High Castle

, which portrays him living into the series' 1960s "present."

B+
(08-20-2017, 07:07 PM)

Gaith Wrote:

Enigma

(2001)



2014's

The Imitation Game

tried to pay movie tribute to Bletchley Park codebreaker Alan Turing, but grossly distorted his personality, greatly exaggerated his importance*, made him look like an idiot** and a possible murderer***, and literally portrayed him committing treason. The 2001 film

Enigma

, on the other hand, doesn't reference Turing at all (apparently the source novel mentions that by the time the story is set, in '43, he was on his real-life trip to America), and kinda conflates its fictional straight protagonist with the real-life figure. Obviously, then, neither of these films do Turing justice, but in sheer overall historical terms, despite being a fictional thriller, I think

Enigma

gives a much better and more complex picture of Bletchley Park operations, and has a far greater respect for its audience overall. (If you don't know what the Katyn Massacre was, chances are you'll get fairly confused.)

A-
(11-17-2017, 06:28 PM)

Gaith Wrote:

The Eagle Has Landed

(1976)



A fun war romp, somewhat let down by an absurd old-school sexist subplot. Possible quibble: one character posits that kidnapping Churchill won't win the war, but could help bargain for a better peace - but were top German officers so sure of defeat in the fall of '43, more than half a year before D-Day? I'm no expert, but it doesn't strike me as likely. Still, it's solid, classic action fare with strong perfs and realistic, easily followed battle tactics.

B+
(02-10-2011, 05:09 AM)

Gaith Wrote:

Atonement

(2007)



A great film.  The appropriateness of the title is wonderfully debatable  and  thought-provoking. The story is indeed silly (an absurd amount of   disasters happening in the span of a single day,

really

), but it's a grandiose sort of silly, and in that respect is not entirely unlike the similarly dream-like

Apocalypse Now

.   Moreover, in being bravely-directed enough to take itself absolutely seriously, it reaches an operatic magnificence that more benignly believable tales hardly ever reach, or even aspire to. We humans need an occasional full-on myth, and this is just such a work. Also, retroactive recognition for Benedict Cumberbatch!

A
(07-30-2017, 07:14 PM)

Gaith Wrote:

36 Hours

(1965)



There's a good review I mostly agree with here. We're shown the full gambit from the beginning, so instead of being in protagonist James Garner's shoes, wondering why something just

doesn't feel right

, we're waiting for him to catch on. But while the last third is low-key in an charming, old-timey way, the main interest is the largely sympathetic rapport between Major Pike and his German captor. [...] An early, pioneering screen example of the Faked Rip Van Winkle ploy, used numerous times in

Mission: Impossible

as well as

TNG

("Future Imperfect") and

Enterprise

("Stratagem"). I was expecting, and would have enjoyed, a more tense third act.

B
(04-29-2015, 04:05 PM)

Gaith Wrote:

The Imitation Game

(2014)



Boy, was [

TM2YC

] not kidding about the shitty writing! Some American a-hole won an

Oscar

for this crap?

Jesus Christo

. The gags about Turing not grokking jokes and figures of speech were beyond trite, Knightley was woefully miscast in a misconceived part, and, no disrespect to people whose autism really

does

make them deeply awkward and socially challenged, Cumberbatch's historically unfounded

Rain Man

routine was just painful to watch. And though I can see people disagreeing with me on this point, I would have really appreciated some

Beautiful Mind

-style visual interpretations of Turing's mathematical thought process. (I really liked said surreal touches in

The Fifth Estate

, an underrated and much better film with a much better Cumberbatch performance.)

D+
(09-06-2017, 03:27 PM)

Gaith Wrote:

Their Finest

(2017)



I wanted to love this one, but only liked it. The central romance was undercooked, with an unnecessary love triangle to boot, and the peripheral characters didn't get enough to do. Maybe a miniseries would have been a better fit, allowing the filmmaking and other plotlines more room to breathe. Definitely worth a watch, and Arterton is great, but a classic it ain't.

B
(11-22-2017, 04:23 PM)

Gaith Wrote:

The Train

(1964)



A great film.

Very

loosely based on a true story, it's said to be the last major B&W adventure movie of its time. Lancaster is about the manliest damn man hero I've ever seen, and, somewhat amusingly, like Tom Cruise in

Valkyrie

, this Yank is Not Even Bothering With the Accent. Anyhow, the cinematography is stunning, glorious grayscale, and the story is gripping, and full of awesome period/accurate detail of rail switches being thrown, locomotive oil lines sabotaged, and repairs and replacement parts made in a hurry, even if a mid-movie elaborate subterfuge isn't quite credible. Paul Scofield makes for a terrifying Nazi villain; alas, this movie's production apparently soured him on film acting, though he did have a few more film roles. A must-see that blows George Clooney's similarly themed (and not terrible, just thoroughly mediocre)

The Monuments Men

out of the water.

A
(07-26-2015, 12:53 AM)

Gaith Wrote:

The Monuments Men

(2014)



A very oddly scripted movie. For instance: a bunch of older dudes are  assembled into a special WWII Army unit, and get wildly different ranks.  Now, I'm in the actual Navy now, but even so, I have very little idea why who got what rank. Prior service, maybe? Had any of them been in  WWI? The movie doesn't say. And the actors are so recognizable and the  characters so thinly sketched that you never see them as characters,  it's just Clooney and Damon and Co. jaunting around Europe. That  said, it was a pleasant, low-key watch, and I don't regret its existence, or having seen it. It struck me as a popcorn movie for  geezers, much like this year's WWII-themed

Woman in Gold

, and there ain't nothing wrong with that.

B-
(08-07-2017, 06:27 PM)

Gaith Wrote:

Dunkirk

(2017)



As fraught as the Dunkirk evacuation was, it seems to me (and I'm no expert on it) that despite the odds, it went pretty smoothly over the course of nearly a week. This naturally lends itself to meditative tone, such as the bravura single-shot sequence of

Atonement

, but not so much one of Nolan's mind-screw puzzle-plots - so he cheats, somewhat, by throwing the whole thing in a blender. [...] The movie is too gripping and skillfully made for me to dismiss it, but I'd definitely like to see a more epic, comprehensive take on the matter (with fewer brain-dead morons that think a steel tugboat cares about one more or less human sitting in its hull), one that takes us from the strategy rooms to the groups of those gross, cootie-filled women that Nolan's evidently so repelled by. (Aaron Sorkin plus Ridley Scott, maybe?) And I, too, am interested as to how a chronological cut might play. Would it look comically small-scale?

B+
(01-01-2018, 04:14 AM)

Gaith Wrote:

Prussian Blue

by Philip Kerr (2017)



A riveting, challenging story that may just send you to the library in search of Gunther's eleven other adventures. My only quibble is that Kerr might have eased up a bit on Gunther's constant internal quipping in the final third, when the action reaches its peak. Outside of Sherlock Holmes, I've never been a reader of detective stories, but this novel might change that.

A-
(10-01-2017, 02:53 PM)

Gaith Wrote:

Hacksaw Ridge

(2016)



A terrific film about a truly great American. I much preferred it to

Saving Private Ryan

, which, apart from its Normandy sequence, is fairly naff, IMO. Worth noting that director Mel Gibson actually omitted what was arguably Doss' most dramatic act of self-sacrifice, leading to his lifelong injuries - I'd object, but then, I suspect Doss himself would have approved!

A-
(08-07-2017, 05:50 PM)

Gaith Wrote:

Allied

(2016)



I really enjoyed this throwback WW2 romance/spy thriller from Robert Zemeckis. It takes its time getting to the plot swerve about halfway through, which the previews gave away, but I didn't see coming. Anyhow, I don't have a whole lot to say about it, other than that it's solid old-school filmmaking with a few modern touches, looks great, and is an engaging, compelling ride. Pitt wasting

Naht

-zees never gets old.

B+
(05-03-2017, 06:30 PM)

Gaith Wrote:

Ike: Countdown to D-Day

(2004)



Exactly What it Says on the Tin - a solid, competently made, look at the planning of Operation Overlord and the quiet professionalism of Supreme Allied Commander Europe Eisenhower (Tom Selleck), with roughly equal time for each. A

New York Times

review of this A&E TV movie (commercial break fades and all) seemed more concerned with bashing the product for having been written and produced by a rare right-wing showbiz player around the height of Iraq War fever, but I didn't find anything objectionable about it, apart from a mild bit of Greatest Generation schmaltz. A decent, minor diversion for WW2/military history buffs.

B
---
And now, the first of (no doubt) many
new reviews
!
Darkest Hour

(2017)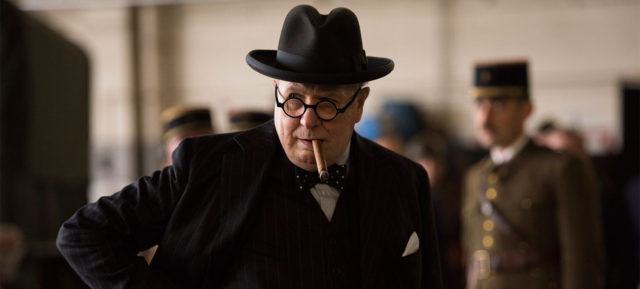 I was surprised to learn, after viewing this film, that it was a full 125 minutes - I would have guessed around 105. Not a whole lot happens, story-wise, but the viewing time flies by regardless, and when it ended I wanted to see a sequel at once. (Unless they actually make one, which I would welcome, I guess HBO's very good
Into the Storm
will have to do.) And, you can believe the hype - Gary Oldman is completely unrecognizable under the makeup, even in very close shots. In fact, it was a good fifteen or so minutes before I remembered it was him somewhere in there at all.
And the movie itself? As a rousing pageant to Great Man Churchill, it's pretty good. There's a major, artistically controversial scene right before the climax that more or less worked for me, though even within the realm of fiction, its authenticity
as a measure of the times
has been questioned. A fan edit could possibly remove it fairly painlessly, though the next scene does prominently mention it. And while the real-life PM's secretary Elizabeth Layton was apparently perfectly pleasant-looking, Lily James is so fantastically pretty that it almost seemed as if the movie were arguing that any and every national sacrifice to keep her safe would be worth it in of itself.  
Even apart from politics, only a monster could bomb a city with
this
woman in it.
The excellent
Bloodline
/
Rogue One
's Ben Mendelsohn is also predictably terrific as George VI; he's good enough that I didn't even wish Colin Firth (
The King's Speech
) or Rupert Everett (
A Royal Night Out
) or even Iain Glen (the aforementioned
Into the Storm
) were reprising their part.
B+
. Perfectly enjoyable, and Oldman deserves every accolade coming his way.