(11-05-2013, 11:06 PM)

TM2YC Wrote: 'Where Eagles Dare' is supposed to be QT all time favourite movie and it's pretty high on my list too. Richard Burton as an octuple Agent, Clint Eastwood taking on half the German army single handedly and that theme music... it don't get much better!
Welp, let's give it a look!
---
Where Eagles Dare

(1968)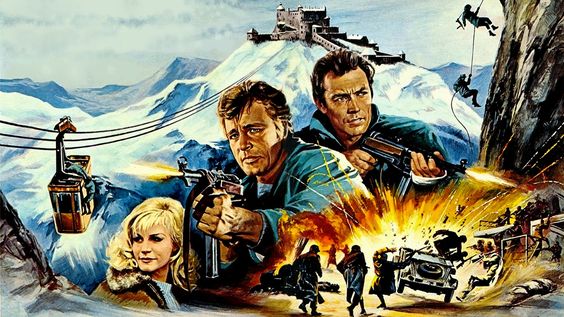 Three years before
Dirty Harry
, Clint Eastwood scores a career-high body count in this 2.5-hour action epic also starring Richard Burton. Fans of character dramas should look elsewhere, as
Eagles
is all plot (and action, though it takes half the movie to get there). And there is one big plot whopper that occurred to me during my viewing, but I soon forgot about it amidst the explosions:
Apart from magically bottomless ammo supplies, however, the movie does have two big flaws: for starters, pretty much everything goes according to plan - all heist movies should have one major hiccup/setback for the heroes to work around or fight their way through, but we don't get that here. Second, all the villain characters die en masse a little more than halfway through, and then we're left with a full hour of wasting mooks, which gets a bit old.
Still, despite its dramatic shortcomings, the scenery is spectacular, the kills are numerous and crunchy, the explosions plentiful, and the upper lips stiff as steel. I'll be generous, and give
Where Eagles Dare
a
B+
, in large part for sheer production values.