09-12-2020, 04:40 PM (This post was last modified: 09-12-2020, 04:43 PM by Gaith. Edited 2 times in total.)
Double feature time!
2 Fast 2 Furious
(2003)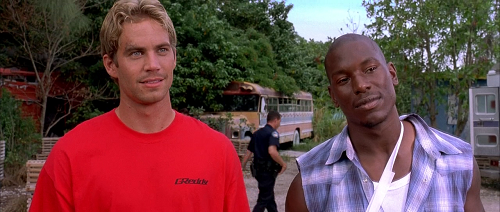 The best part of this sophomore outing of the franchise, sadly, isn't actually in the movie, and that's the moment where the studio executive in charge first heard that someone genuinely wanted to call their $76m investment
2 Fast 2 Furious
. It's a gloriously awful title that's kind of perfect, in that it embodies the movie's utter lack of pretension in search of a good time. I mean, just look at that garish red t-shirt on Walker in the above picture. That's his outfit for the movie's last act
and
last scene. It's all just lovably dopey. This is a movie set in Miami that doesn't even manage to have a gratuitous beach scene.
Okay, on to the movie. This is the main series' only entry without any Vin Diesel - not even a picture - but the script nicely references Dom in a surprisingly moving moment when Brian O'Conner (Paul Walker) tells his childhood friend Roman Pierce (Tyrese) that his guilt over Roman going to jail likely played a part in him letting Dom go. As for the plot, it's a goofy mishmash of street racing and pulp drug-lord flick. Ludacris enlivens things as a wildly successful garage owner and all-around
bon vivant
, and Eva Mendes is beautiful albeit underused as the not-quite love interest - this movie is ultimately about Brian and Roman's brotherly love. They are... dare I say... like
fambly
.
Grade:
B+
----------------
Fast & Furious
(2009)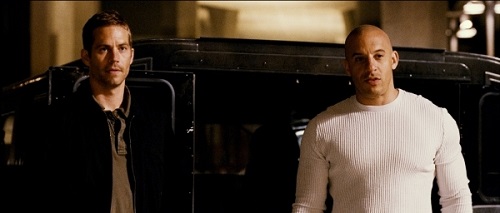 On to the fourth part, which, due to
Tokyo Drift
taking place out of sequence, is actually part three. (Where exactly
Better Luck Tomorrow
fits in, I don't know.) But, be sure to watch the 20-minute short
Los Bandoleros
, reuniting Dom and Letty Ortiz (Michelle Rodriguez), first, as Rodriguez gets almost as much screen time there as in the movie itself. As, for that matter, does Han Lue (Sung Kang).
Plot-wise, the movie is a bit of a
2 Fast
rehash - a drug baron is hiring street race drivers to move his product/cash. Gal Gadot's Gisele Yashar appears (
and how
!) as a baddie who unsuccessfully throws herself at Dom, in what is clearly meant to illustrate his grief, but instead just fuels the
ho yay
between himself and Brian. Yes, just as the first movie was a tale of Brian briefly joining the Toretto family under false pretenses, and
2 Fast
was about Brian and Roman renewing their brotherhood, this flick is about Brian renewing his commitment to Dom... I mean Dom's sister Mia (Jordana Brewster)... or maybe them both? The movie is intriguingly dark and somber, looking like a neo-noir much of the time, despite its LA setting. Truly, this a world that will not find peace or solace under the heroes'
fambly
is whole.
Grade:
B