05-04-2017, 08:19 PM (This post was last modified: 06-27-2018, 01:50 AM by Gaith. Edited 1 time in total.)
So...
Fast Five
inspired a ten-post thread.
Fast & Furious 6
, 19 posts.
Furious 7
, a whopping 77 posts. But now, in its third week of release, the billion-dollar grossing
The Fate of the Furious
has yet to get its own thread... until now. Let this thread serve as an F8 discussion thread, as well as news for parts 9-10 and any Rock-centric spin-offs. (The producers have said they intend to conclude the "main" saga, though not necessarily the franchise itself, with the tenth movie, but there's been speculation that fan demand and Diesel/Rock friction may send Hobbs off on a spinoff before then.)
The Fate of the Furious
(2017)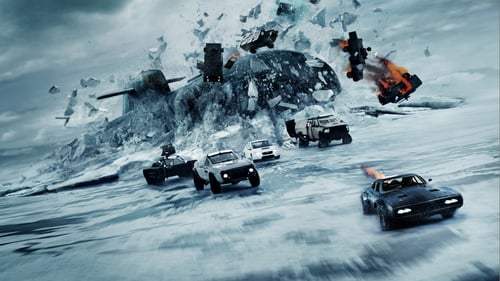 REVIEW:
The Fate of the Furious
is more of the same. One of the great pleasures of the franchise's early installments is how they improvisationally bounced around from being an urban gang drama to a goofy quasi-buddy cop movie to an unrelated side story to a grim revenge thriller to a heist movie to, finally, a cyber-techno superhero saga in
F6
. Well, it seems they've found their formula and are sticking to it (and, with these returns, who could blame them?), because
F7
and
F8
are very much tonal and narrative matches to that sixth movie. Although just about everyone agrees that
Fast Five
is the series' peak, with our protagonists on the run from the law on one side and battling a drug lord on the other, making them government-friendly automotive avengers opens the most globetrotting scales, and allows for the biggest action set pieces, so it looks as though this mode is here to stay. And I for one am good with that.
F8
is tons of fun. Though it has far more comic relief/beats than
F4
, the previous darkest hour for our heroes, this one gets darker still, showing us a side of Dom we haven't seen before. Perhaps this heaviness was inspired by the loss of Paul Walker, or maybe not. (
F8
gives us a new token white guy in Scott Eastwood, the assistant to Kurt Russell's Mr. Nobody, and though he doesn't have Walker's charisma or looks, I liked him a good deal.) And there is one character/plot point that has proven damned divisive, with some saying it irreparably breaks the saga's narrative integrity. And sure, it's a bit awkward, but I went with it. After all, the downside to abandoning the drug lord baddies of the
2
-
5
years is that the new Big Bads are all techno-terrorists, but, because the risk of offending anyone anywhere in the world means lost dollars, it's never been clear, from
6
on, just what these techno-terrorists
want
. (Of course, one could say the same for Spectre's Blofeld.) And just how virtuous
are
our heroes, anyway? They started out as highwaymen thieves, and pulled guns on and threatened (lawman Hobbs included) military members doing their proper job at the end of
6
for purely personal gain, so it's not as though morality has ever been a pressing concern. A spoilsport could credibly call the team's ethics Trumpian, but I am not a spoilsport, at least not here. The aforementioned twist results in more fun than
not
twist-ing would have, so I allowed it. If the MCU pulled something similar, I'd indeed be pissed - but this ain't the MCU.
Grade:
B+
Series Ranking
1.
Fast Five
2.
Furious 7
3. Tie:
2 Fast 2 Furious
,
Fast & Furious
,
The Fate of the Furious
6.
The Fast and the Furious
7.
Fast and Furious 6
There are some awesome series infographics/data
here
, courtesy of Bloomberg News. And, because it will never, ever get old: