---
RE: Doctor Who - Handman - 11-24-2019

I still miss Capaldi.  :-(


---
RE: Doctor Who - bionicbob - 11-24-2019

THE TEN DOCTORS RE-IMAGINED by Babelcolour 10th Anniversary 



Soooooo EXCITED!!!!!!!!!! 
---
RE: Doctor Who - Zarius - 11-29-2019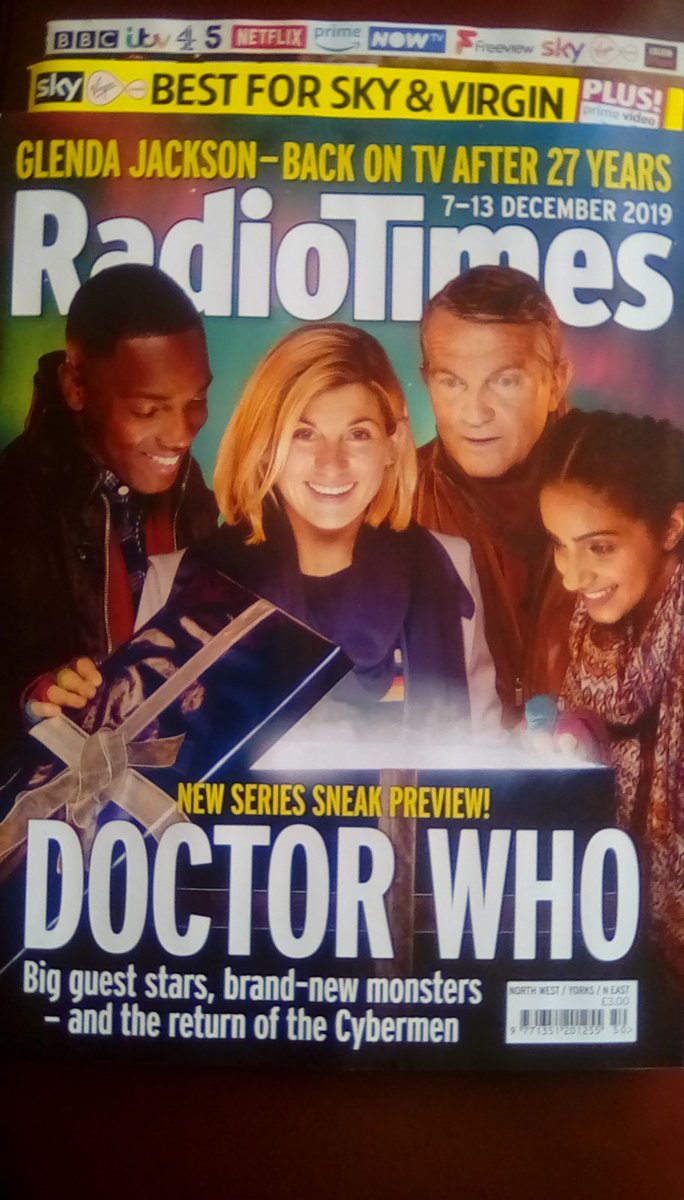 ---
RE: Doctor Who - asterixsmeagol - 12-02-2019

I wasn't expecting the premiere to be so soon!

Doctor Who News Wrote:The Thirteenth Doctor is in her TARDIS on her way back to BBC One for a thrilling ten-part series which will land on New Year's Day 2020, with subsequent episodes airing on Sundays.

Starting with a blockbuster action packed two-part episode entitled Spyfall, the Thirteenth Doctor is well and truly back with a bang. As Jodie Whittaker takes charge of the TARDIS once again, the Doctor will be joined by her friends Tosin Cole (Ryan), Mandip Gill (Yaz) and Bradley Walsh (Graham). The twelfth series will also welcome a host of famous faces including Stephen Fry, Sir Lenny Henry CBE, Robert Glenister and Goran Višnjić to name just a few.

Add to that some familiar faces including the Judoon and the Cybermen, series twelve is set to be an epic action packed rollercoaster for everyone, just don't stray too far from behind the sofa...

Spyfall has been written by Chris Chibnall, Showrunner.
---
RE: Doctor Who - addiesin - 12-02-2019

One of the most consistently confusing Chibnall era decisions so far is they insist there's no Christmas special, they watch everyone complain, then later announce that there is actually a special or episode but it will be released five days after Christmas. I can't be the only one who doesn't care about the technicality that it's not actually Christmas.

It's new Who. It's wintertime. Should be good enough. In recent years past, the show went on hiatus so much that a Christmas special was sometimes the only hope of a new episode. I suspect fan reactions are at least in part informed by the inconsistent release schedule.

Just seems like BBC is making it difficult for themselves. Instead of even talking about a Christmas special, they could say something like "we're going in a different direction to try to deliver full seasons in a more reasonable time frame, which sadly conflicts with practices that have become considered traditional for our series. Sorry for the change, but please trust us. Reinvention is a crucial part of keeping the show relevant, and more episodes are coming sooner than you might expect."

Something like that would be simple and would seemingly avoid a lot of the gossip and bad word of mouth generated by just saying "nope, no Christmas special this year either".


---
RE: Doctor Who - Zarius - 12-04-2019

Here's your BBC ONE New Year's Day schedule, Doctor Who and Moffat/Gatiss Dracula on the same night, with dreary Eastenders sandwiched in between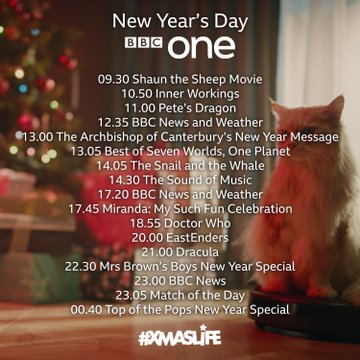 ---
RE: Doctor Who - Zarius - 12-07-2019




---
RE: Doctor Who - addiesin - 12-16-2019

Once my current project is complete I'd like to do a little experiment with Doctor Who. I have some William Hartnell on a Doctors Revisited DVD that I'd like to run frame by frame through an AI colorizer and possibly also through an AI upscaler to see if the added color and sharpness makes any difference in the watching experience. I'd feel differently if it were well-preserved film stock that looked amazing as is, but we all know the picture quality of early Who leaves much to be desired, so I think it's fair game for improvement attempts.

Then to correct the colorization still in a somewhat automated process (for example to make sure the TARDIS is blue), I think I could manually recolor a few reference frames and run it through ebsynth to see what happens to it.

I suppose this could evolve into a fanedit and eventually if the upscaler works, maybe it could be cropped for widescreen on a shot by shot basis. I'm thinking An Unearthly Child is the perfect test subject for this. If successful, this might be something that can be used as a workflow foundation for other edits, and would hopefully allow for editors to have a more modern take on the black and white seasons, maybe allowing footage to mix into a multi Doctor story.

Any interest in seeing something like this in a raw experimental form? Like short, contextless clips that demonstrate differences in different attempts, software, and workflows?


---
RE: Doctor Who - ChainsawAsh - 12-16-2019

I'd be interested.


---
RE: Doctor Who - Zarius - 12-17-2019

Massive DW fan here, big fan of what Babelcolour has done with colourised Hartnell too, so I'd be interested


---