---
RE: 1001 Movies in Chronological Order - TM2YC - 04-18-2019

65 years ago...






From Here to Eternity

(1953)
Director: Fred Zinnemann
Country: United States
Length: 118 minutes
Type: Drama

All I knew of

'From Here to Eternity'

was the famous and much imitated beach scene and the movie's well-deserved reputation. The all-round classiness of the production makes it easy to see why it won 8 Oscars, including

Best Picture

. The sharp script only takes 15-minutes to fully setup the plot, develop the main characters and layout the world they inhabit. We follow the lives and loves of three soldiers, a stern Sergeant (

Burt Lancaster

), a resolute young Private (

Montgomery Clift

) and his rambunctious sidekick (

Frank Sinatra

) stationed in Hawaii leading up to the Pearl Harbor attack. The whole cast including

Donna Reed

,

Deborah Kerr

and

Ernest Borgnine

are all A-list. Although some of the peculiar limits of 1950s Hollywood censorship still apply, the sexuality is a good deal more overt than in earlier films of this period.





Next up, the first of several films in the book by Yasujiro Ozu.


---
RE: 1001 Movies in Chronological Order - TM2YC - 04-20-2019

65 years ago...






Tokyo Story

(1953)
Director: Yasujiro Ozu
Country: Japan
Length: 136 minutes
Type: Drama

I tried watching

'Tokyo Story'

in 2012, when it was newly voted "the best film of all time" in a poll of notable film Directors by

'Sight & Sound'

magazine. I got about half an hour in and was too bored to continue, so it's time to see if my tastes have changed, or my attention span has increased
.

Yasujiro Ozu's

film is a very loose reworking of

Leo McCarey's 'Make Way for Tomorrow'

(1937) with another quiet old couple being ill-treated by their grown-up children, who are too busy with their own lives. Only the widow of their late son treats them with respect, love and kindness, putting herself out to spend time with them. This creates a fascinating paradox because through her deference to them and reverence of her dead husband. she has neglected herself and is secretly sad and lonely behind her warm smile.

If I recall correctly, the camera only moves once, otherwise it never changes position by so much as a millimeter, never zooms and never pans, making the film in-tune with the stillness of the old couple and accentuating the activity of their children. The peculiarities of Japanese interior design are used to make layered compositions in the foreground, mid-ground and background. The cast are uniformly brilliant,

Chishu Ryu

and

Setsuko Hara

in particular (the father and step-daughter respectively). Even though I think that anybody who says something as minimal as

'Tokyo Story'

is the highest achievement of the cinematic arts, is getting high off of their own pretensions... it is very, very good.



Audrey Hepburn's first big role next.


---
RE: 1001 Movies in Chronological Order - TM2YC - 04-22-2019

65 years ago...






Roman Holiday

(1953)
Director: William Wyler
Country: United States
Length: 118 minutes
Type: Romance



'Roman Holiday'

was secretly written by the blacklisted

Dalton Trumbo

, working under another name but the restored version I watched had his credit put back into the opening titles.

Audrey Hepburn

plays a closeted young Princess of an unnamed European Monarchy (but I'm sure we are supposed to infer that she is one of the two British Princesses) who is utterly exhausted by her suffocating official schedule and so escapes her bedroom in the Embassy to see Rome for herself.

Gregory Peck

plays a mildly disreputable Rome-based US Newspaper man who doesn't initially realise who this girl is but when he does, he smells a profitable scoop. Naturally they begin to fall in love over 24-hours spent exploring Rome (filmed on location). The humour comes from us knowing that both characters are being less than honest with other, the fish-out-of-water angle with the Princess and the scheming of Peck's Reporter. It's a practically perfect Fairy-tale Romance with a witty script and a beautifully acted, tear-enduing ending.



The first film in the book by Henri-Georges Clouzot next.


---
RE: 1001 Movies in Chronological Order - TM2YC - 04-25-2019

65 years ago...






The Wages of Fear

(1953)
Director: Henri-Georges Clouzot
Country: France / Italy
Length: 153 minutes
Type: Drama

I'd already seen the remake

'Sorceror

', so I was familiar with the premise of this

Henri-Georges Clouzot

original. A group of desperate men take a lucrative but deadly job from a South America based US oil company to drive volatile nitroglycerine across miles of bumpy road to put out a burning oil derrick. Clouzot really takes his time setting up the characters before he puts them in danger, it's a half hour before the mission is even mentioned and an hour before they set off. Unbearable levels of tension are ratcheted up though masterful direction, precise editing and great sound-design. After the dangerous quest, the final irony is that fear of death may be the only thing keeping you alive.

Yves Montand

is like a French

Humphrey Bogart

as the central "hero",

Charles Vanel

is terrific as a faded old gangster and

William Tubbs

is so damned cynical and callous as the US oil chief that you kinda love him (sadly his last role).  I'm looking forward to seeing a lot more of Clouzot's films in the near future.



Next is another Western collaboration between Jimmy Stewart and Anthony Mann.


---
RE: 1001 Movies in Chronological Order - TM2YC - 04-26-2019

66 years ago...






The Naked Spur

(1953)
Director: Anthony Mann
Country: United States
Length: 91 minutes
Type: Western

It's almost as if

'The Naked Spur'

begins halfway through the plot of a standard Western and you have to catch up.

James Stewart

is already hot on the heels of a man wanted for murder (and his girl), when a cranky old prospector and a dubious Army Lieutenant get mixed up in the deal. I noticed similarities to

Quentin Tarantino's 'The Hateful Eight'

, in that this is another Western where you think you have a firm grasp of who the heroes and villains are at the outset but dark revelations from their past and the promise of money soon begin to unravel the character's motivations.



Next up is the first film in the book by Samuel Fuller.


---
RE: 1001 Movies in Chronological Order - TM2YC - 04-27-2019

65 years ago...






Pickup on South Street

(1953)
Director: Samuel Fuller
Country: United States
Length: 80 minutes
Type: Film-Noir, Spy-Thriller

A New York subway pickpocket unwittingly pinches a top-secret film from the purse of a random lady and so becomes mixed up with Soviet spies and the US Government agents on their tail.

Richard Widmark

is a lot of fun as the outrageously insolent thief. This Noir has a harder edge than most with several scenes of wince-inducing violence directed at

Jean Peters'

character Candy. 

Thelma Ritter

(from

'Rear Window'

) steals the show from the two leads as an amiable old girl who informs for the Police, she has easily the most powerful scene. The central message is pretty much

"You can be a two-bit cut-purse, a sneaky stool-pigeon, or a cheap harlot but they're all saints next to a dirty Commie!"

which comes across as faintly silly and jingoistic to modern ears. However, when you consider that New York couple Julius and Ethel Rosenberg were arrested for passing secrets to the Soviets a year or so before this film was written and they were executed by Electric-Chair the very same week

'Pickup on South Street'

hit theaters, it must have seemed like a drama ripped from the headlines.



A Marilyn Monroe classic next.


---
RE: 1001 Movies in Chronological Order - TM2YC - 05-02-2019

65 years ago...






Gentlemen Prefer Blondes

(1953)
Director: Howard Hawks
Country: United States
Length: 91 minutes
Type: Comedy, Musical, Romance

I wasn't expecting a fifties film starring two voluptuous sex bombs (

Marilyn Monroe

and

Jane Russell

) to be such a strong feminist statement. Monroe's character Lorelei is a lovably blatant gold-digger and Russell as Dorothy is her fiercely loyal and more practical best friend. Cleverly the antagonist is also the love interest for Dorothy, a Private-Eye (

Elliott Reid

) shadowing Lorelei. It's made very clear that Dorothy will not put her love for him before her friendship with Lorelei, after-all the film's most famous song

'Diamonds Are a Girl's Best Friend'

is about achieving financial independence from the unreliability of men.



The dialogue is so snappy and fun that I sometimes felt the songs interrupted my enjoyment but that probably depends on your feelings about musicals. Russell has most of the best lines, dripping with sarcasm and Monroe plays her part with a potent mix of faux naivety and outrageous flirting. Almost all the male characters are helpless against Lorelei's powers of persuasion and she knows it! The Technicolor images are crazily vibrant in glorious HD.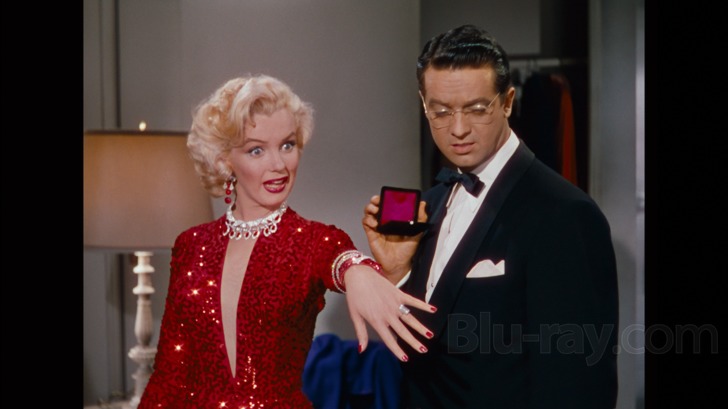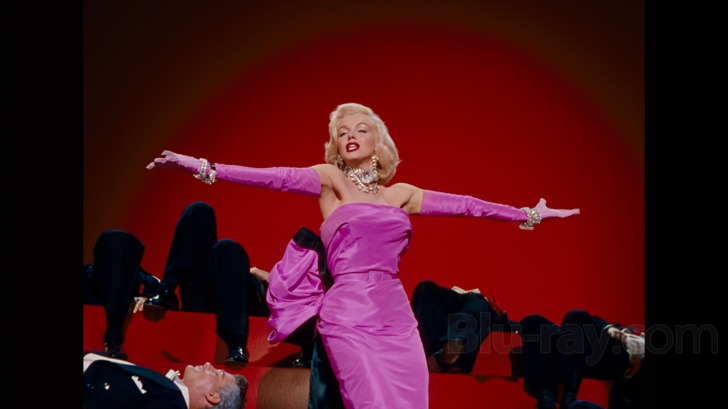 Another Fritz Lang Noir next.


---
RE: 1001 Movies in Chronological Order - TM2YC - 05-03-2019

65 years ago...






The Big Heat

(1953)
Director: Fritz Lang
Country: United States
Length: 90 minutes
Type: Film-Noir



Fritz Lang

once again resets the standard for Film-Noir with this story of a lone incorruptible Police Sergeant against the mob and his own department.

Glen Ford

is sensational as the ultimate Noir Cop, spitting out hard-boiled dialogue with venom at his adversaries but still a decent man at heart. I was reminded quite a bit of Eliot Ness in 1987's

'The Untouchables'

(one of my all-time favourites) in the way he must weigh his duty and the threat to his family.

'The Big Heat'

is probably also the key influence on 1997's masterpiece

'L.A. Confidential'

with the same sort of police force rotting from within. Much of the worst violence is directed at the female characters, most infamously when

Lee Marvin's

gangster throws boiling coffee in his girlfriend's face out of spite. This is a grim and dark, edge-of-the-seat drama.



The first film in the book by Jacques Tati next.


---
RE: 1001 Movies in Chronological Order - TM2YC - 05-05-2019

66 years ago...






Monsieur Hulot's Holiday (1953)


Director: Jacques Tati
Country: France
Length: 114 minutes
Type: Comedy



'Monsieur Hulot's Holiday'

(

'Les Vacances de M. Hulot'

) is a throwback to the Silent Comedies of Chaplin, Lloyd and Keaton. It does feature a soundtrack, in fact a lot of the humour is derived from the soundFX and nonsensical radio broadcasts we hear but conversational dialogue is almost nil.

Jacques Tati

plays the physically awkward title-character, vacationing at a busy beach-side Hotel. Hulot is a bumbling good-natured man, ludicrously polite and generally unaware of the utter chaos he generates by his mere presence in a room. The visual comedy is precise and subtle and will no-doubt reward repeated re-viewing to see what little details you missed. Some of Tati's routines are impressive, like a one-shot take involving a floating paint can, or him nearly being run over by a truck. I didn't have many big laughs but had plenty of gentle amusement.



Next is another Ingrid Bergman film.


---
RE: 1001 Movies in Chronological Order - TM2YC - 05-05-2019

64 years ago...






Journey to Italy

(1954)
Director: Roberto Rossellini
Country: Italy
Length: 105 minutes
Type: Drama

The title of

'Journey to Italy'

(

'Viaggio in Italia'

) should have been more accurately translated as something like

'Travels in Italy'

because it's about a couple from England exploring Naples, not about them traveling there. The husband (

George Sanders

) is a brusque workaholic, while the wife (

Ingrid Bergman

) is more of a gentle poetic soul. After 8-years of busy work and marriage, suddenly having nothing important to do makes them realise they have become strangers. The landscape offers metaphors a plenty, from Mount Vesuvius lying dormant, catacombs of ancient skulls, to unearthing a petrified married couple in the ruins of Pompeii. Shooting almost entirely on location makes

Roberto Rossellini's

film seem much more modern than the work of his contemporaries and the sharp 1950s clothes and cool shades haven't dated either.

Renzo Rossellini's

score is redolent of

'The Godfather'

and since the story ends on a Festa, I'm sure the Coppolas have seen this.



The first Kenji Mizoguchi film in the book next.


---